Macabre: An introduction to Don Hutchison's 40's zine.
Taral Wayne
A little while ago, (early July 2009 to be precise) I attended a book launch for an old friend, and bumped into Don Hutchison as well. This is not uncommon. Don gets out – he's a spry old cuss – and we've known each other for years. In fact, if it wasn't for the fact that I photocopied his old fanzines, he wouldn't have them himself. On the spur of the moment I blurted out, "Would you mind if I scanned both issues of Macabre to post on the internet?" He answered, "I am not a spry old cuss! But, sure, go ahead and post the Macabres."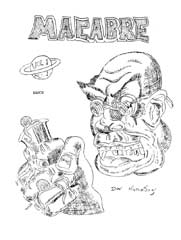 Don only published two issues – I know not why. Nor am I acquainted of his activities in the years immediately after 1948, when he published them. But when I met him in the 1970's he was an accomplished cameraman for the Canadian Broadcasting Corporation and had traveled the world with his camera, documenting lions on the prowl, postal strikers on the picket line, nekkid teenage girls swimming out to touch Pierre Elliott Trudeau on the beach, and hockey players drinking cheap champagne out of the Stanley Cup… and other history making events of similar comport. Don retired from all that sometime in the early '90s, I believe. In any case, he returned to an old interest in the macabre, and edited at least five volumes of Northern Frights – collections of Canadian dark fantasy.
Both issues of Macabre were co-edited by Jack Doherty, mimeographed on fuzzy white paper, and stapled.
Issue one, March 1948, weighs in at 24 pages. Among the contents listed are articles by Joe Kennedy, and Forrest J. Ackerman. The later was a review of some long and deservedly forgotten story about a post-Atomic War future in which the Americas are obliterated. Frankly, since no-one is ever going to read the story, the review is every bit as badly dated. There are two works of amateur fiction, a piece of poetry ala crappé, and several "departments" provided by Don, Leslie Croutch, William D. Grant and Jack Doherty. Illustrations are by Bill Rotsler and "the editors."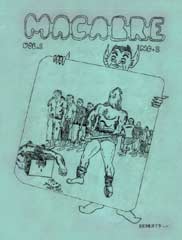 Issue two, dated June 1948, has a blue cover, runs to 36 pages, and is also mimeographed on inexpensive white paper. Articles listed include one by David H. Keller ("Animals or Gods?" – could that be about the dual nature of Man, you think?), and a bit of putative humour by Joe Shaumburger. There are two more amateur stories, one by Art Rapp. And a "fantasy crossword" by Redd Boggs. (Get out your pencils, crossword fans!) "Departments and Features" are as before – rhubarbing by the editors, Les Croutch doing his best to appear well-read, film reviews by Bill Grant and letters (appearing for the first and last time). Art is by the editors entirely.
Why scan and preserve Macabre for posterity? It isn't a landmark fanzine, nor terribly well known. It is, however, one of the higher-such profile Canadian zines of the 40's, and it is (if nothing else) representative of fanzines of that era in general. From humble beginnings do mighty Energumens and Simulacrums grow.
And I had them, so was able to scan them – an important detail, often overlooked.
---